End of Arrow M2M Roadshow for 2012
by Mike Aanenson, on May 23, 2012
We ended the Arrow M2M roadshow at the end of March and just realized we completely forgot to post about it. The roadshow was very successful and we met a lot of engineers and organizations looking to enable their products using different M2M technologies (cellular, local wireless, ethernet, wifi, the cloud, data and device platforms, etc). We also had a great time with the other companies at the roadshow.
One of the lasts shows was here in Minneapolis, which turned out to be a great event and there was easily a few hundred people in attendance. We look forward to participating in the future.
The main talk we gave was about using 'The Cloud as a Peripheral', in reference to the past 15 years of what seems like an arms race for microcontrollers and adding peripherals to them (UARTs, SPI, LCD controller, Ethernet, Flash, WiFi, USB, USB 2.0, Graphics Accelerators, and the list continues). In summary, the cloud is the next in this line of what's new in the world of microcontrollers and products. Much like USB and UART before it, it opens the door to use for a number of functions, like data storage, user interfaces, control, in the field updates, connections to other devices, and it really has an infinite number of different uses.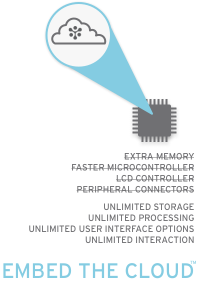 Think of all of the ways USB has been used, be it for mice and keyboards, USB thumb drives, printers, etc. Companies have been able to find many interesting uses for USB as peripheral they can count on having, and we think the cloud is the next in line with the benefit being remotely accessible and not having one specific hardware interface.
We'll dedicate an entire post to this topic soon, it's an interesting look at where products are going. I think we have access to a video of one of the sessions and we'll get that posted as soon as it becomes available.