Exosite Brings IoT Insight to AWS re:Invent
by Exosite, on September 28, 2015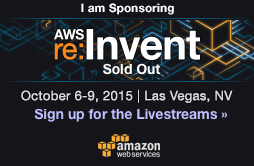 Exosite prepares to welcome in fall by attending AWS re:Invent in Las Vegas, October 6th – 9th. The event brings together thought movers, shakers, and doers of all skill levels to connect, collaborate, and learn about Amazon Web Services (AWS). re:Invent has something for everyone including tracks that fit users from introductory, advanced, and an expert level made for those that have already implemented their own solution. This event already boasts a sold-out status, but we'd love to hear from you if you're attending.
Exosite, a Silver sponsor of re:Invent, will bring its IoT insight, expertise, and real-world IoT examples to the diverse group of companies and organizations attending the event. At our booth, Exosite will demo a high-performance SRAM road bike featuring Quarq's Internet-connected power meter. Cloud connectivity has allowed Quarq to revolutionize the competitive cycling industry by offering elite athletes groundbreakingly seamless access to their performance data when and where they needed it. This revolutionary feature also enhanced spectator experiences by providing real-time visual data feeds that allow commentators to provide competitive race analysis instantly.
Exosite will also demo an Internet-connected frozen soft serve machine developed by Stoelting, a food-service industry first. This connected product automation process will transform the food-service industry by providing customers revolutionary convenience, access, and customization options for their favorite soft serve flavors and toppings.
Come visit us next to the IoT Pavilion at booth #847 or Contact Us prior to the show to set up a time to discuss your IoT solution with an Exosite IoT expert.