Exosite Named Outstanding Enterprise at 16th Annual Golden Peak Awards
by Exosite, on October 26, 2014
Exosite's Taiwan operations were recognized as the Outstanding Enterprise of the Year in the small and medium enterprises (SME) category at the 16th Annual Golden Peak Awards. The presentation ceremony was held on September 26th in Taipei, Taiwan, and was attended by both Vice President Wu Den-yih and Vice Secretary-General Lin Wan-Fa.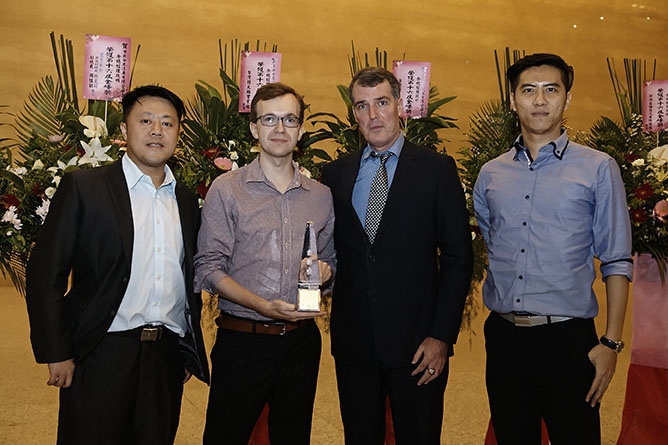 The Golden Peak Awards recognize organizations that are making a significant contribution in the development of new markets in Taiwan. Exosite was one of over 400 companies evaluated in the categories of Outstanding Enterprise, Outstanding Leader, and Outstanding Product for large enterprises, SMEs, and micro enterprises. Exosite received the Outstanding Enterprise award based on its achievements in growth, business philosophy, corporate culture, corporate image, and customer management.
Established in 2009, Exosite's Taiwan operations have grown from a team primarily focused on research and development into a full-service Internet of Things (IoT) enablement organization with development and consulting capabilities, including iOS and Android, web applications, server infrastructure, big data analytics, embedded systems, wireless technologies, systems design, and IoT organizational readiness. The company maintains offices in Taichung - a city known for its arts, culture, good weather, and quality of life - just 49 minutes by high-speed rail from the capital city Taipei.
Exosite's receipt of this award in Taiwan, an area with a high-tech focused economy, highlights the company's position on the cutting edge of IoT. Although many competitors provide cloud-connected systems, Exosite has consistently provided the most complete, commercially integrated IoT solutions. With experienced staff in every area of the value proposition, from hardware and cloud platforms to application development and user interface design, Exosite has the capability and experience to provide total IoT solutions for its customers.
Sam Webster, president of Exosite's Asia operations, felt the award recognized the company's continued efforts to provide high value to its customers. "Exosite's capabilities and extensive international experience in providing total commercial solutions for IoT projects using our local Taiwan-based team makes us unique," said Webster. "Our focus on excellence and solving customer problems are, I believe, two of the contributing factors to why Exosite was given this award."
See full press release here: http://www.businesswire.com/news/home/20141027005132/en/Exosite-Named-Outstanding-Enterprise-16th-An...