Exosite Launches ExositeReady™ Embedded SDK to Accelerate IoT Product Development
by Exosite, on April 11, 2016
Exosite LLC, a leading innovator of Internet of Things (IoT) cloud platform solutions, announced the introduction of the first supported hardware platform for the ExositeReady™ Embedded SDK (software development kit), the Microchip WiFi Client Module (WCM) Development kit.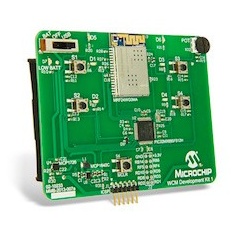 Microchip's development kit gives embedded software developers access to a comprehensive set of open source tools for use with Exosite's advanced cloud-based IoT platform, enabling them to fast-track their IoT initiatives.
"We are proud to be the first IoT partner to offer an ExositeReady certified hardware platform," said Jim Russell, Microchip Technology's Worldwide IoT Function Group Leader. "The ExositeReady supported WCM development kit enables faster prototyping and evaluation for a variety of applications. This ensures that designers and engineers can strategically address the organization's goals by efficiently developing cloud-connected production-ready embedded devices with less risk and investment."
The ExositeReady certification is Exosite's newest offering for partners that wish to provide production-quality software for developers to jumpstart their IoT product deployments using tried and tested hardware components for embedded products. The ExositeReady program includes a complete suite of software modules, ports, instructions, and examples.
The Microchip WCM Development Kit 1 (Part Number DM182023) is a development board utilizing a Microchip MRF24WG0MA WiFi Module and a PIC32MX application microcontroller, which when used with the ExositeReady SDK, enables users to quickly and easily connect to Exosite's cloud-based platform. The WCM Development Kit 1 (request part number DM 182023) is available from microchipDIRECT. The kit already comes pre-programmed with the ExositeReady cloud agent embedded into the hardware platform taking the "out of the box" experience a step further.
"Nearly every company is seeking to add value with the next generation of connected devices for consumer, commercial, and industrial markets," said Jim Caraccio, director of channel sales, Exosite. "As one of the world's leading technology companies, and one of Exosite's IoT Alliance partners, Microchip gives OEMs the ability to leverage the benefits of IoT and transform their businesses."
Availability
The ExositeReady™ Embedded SDK provides commercial-grade client software to connect hardware devices quickly and securely. For more information and to configure a device, visit www.exosite.com/exositeready.
The WCM Development Kit 1 is available from Microchip. For more information, visit http://www.microchipdirect.com/ProductSearch.aspx?Keywords=dm182023.
For more information about becoming an Exosite IoT Alliance partner, and how your offerings can be certified for ExositeReady, contact support@exosite.com or visit https://exosite.com/partners/.
About Microchip Technology
Microchip Technology Inc. (NASDAQ: MCHP) is a leading provider of microcontroller, mixed-signal, analog and Flash-IP solutions, providing low-risk product development, lower total system cost and faster time to market for thousands of diverse customer applications worldwide. Headquartered in Chandler, Arizona, Microchip offers outstanding technical support along with dependable delivery and quality. For more information, visit the Microchip website at www.microchip.com.
About Exosite
Founded in 2009, Exosite provides Internet of Things (IoT) software platforms that allow manufacturers to strategically leverage connected devices. Exosite's cloud-based services enable the world's leading durable goods manufacturers in consumer, commercial and industrial markets to quickly build and deploy solutions that accelerate their IoT generation of business. Exosite is headquartered in Minneapolis with additional offices in North America, Asia, and Europe. For more information, visit www.exosite.com.