Team Exosite: Meet Becca Darrow
by Exosite, on November 17, 2017
"Humor is at the center of all I do."
Where are you from?
I hail from the land of PWB...Prestigious West Bloomington. Go Jags!
What do you do at Exosite?
As a Consultant and Client Engagement Manager in DTS, my main mission is to accelerate customers through their connected product journey with Exosite. I'm also responsible for providing support and guidance for our group's workshops and training: this can be as glamorous as being Internet famous for being featured in a video promoting Fusion workshops or as mundane as being a clock-watcher/gopher/cat wrangler during a workshop.
What's your favorite thing about working here?
I have learned so much from working alongside the brightest minds in the technology industry, but my favorite thing about working here is the opportunity to try things and fail without fear of condemnation. It's actually extremely rare to find.
What's the coolest connected product you've seen? The weirdest?
The coolest has been the Owlet monitoring sock. This allowed me and my husband to sleep soundly when our newborn daughter was actually sleeping. The weirdest is Levi's + Google's Connected Jean Jacket....um, can you even wash it?
If you could create your own connected product, what would it be?
A connected pacifier that could take temperature, analyze breathing to detect when a child may be ill, and be located when it would be inevitably lost somewhere in the house.
What did you google last?
When is the Thymes Warehouse sale?
What music do you hope no one hears you listening to at work?
I'm not ashamed of my penchant for 90s music, but I might be embarrassed if someone caught me lip synching to Eazy-E.
What is your current free office snack of choice?
Tough question. Right now it's the veggie chips. Because a chip made with veggies can't be bad for you, right? RIGHT???
One piece of technology you can't live without?
Nest cam; it's a great baby monitor that we will repurpose someday to make sure our teenager isn't throwing a party when we're out of town.
Who's your hero?
Ruth Bader Ginsburg - obviously for her pushup prowess.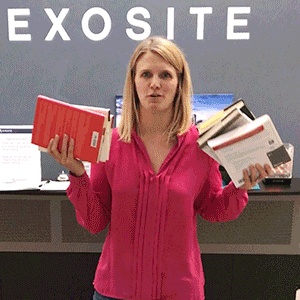 What's your favorite thing to do?
When I'm not working is spending time with my husband and daughter.
What's the funniest meme or GIF you've seen?
Tina Fey is my spirit animal, so this self-five GIF.

What is something about you that would surprise us?
I'm related to Benedict Arnold, but maybe you already didn't trust me.