New Exosite Blogger: Thane Storley, AKA That Cool Tech Intern
by Exosite, on October 26, 2017
In order to publish more technical blogs, we've brought new writing talent to our blog.
Meet our newest blogger:
My name is Thane Storley, I'm 18, and I am currently a Freshman at Iowa State University studying computer engineering. While I was working actively at Exosite in Minneapolis, I was a Support Specialist Intern and a senior attending Rosemount High School.
You've got a history with Exosite, care to share?
I was introduced to Exosite back in 2013 through a series of connections, and after a few emails back and forth with Erik Rorvick, an IoT Advisor at Exosite, I was given an internship opportunity.
I've been working at Exosite since July 2016, and I've come a long way since then. I started my internship before my senior year of high school, working in a conference room, learning the basics of a command line and Exosite. Eventually after proving my worth, I was signed on to my position as a Support Specialist Intern, given a desk, and started working with various Exosite products.
What kinds of projects were you working on?
When I first started working at Exosite, I was working a lot with Gateway Engine. The first project I got was to put Gateway Engine onto a Multitech OCG gateway. After a couple of weeks of learning how to use Gateway Engine and multiple failed attempts to image the gateway I was given, I eventually figured out that it actually wasn't possible. After this, I ended up doing the same thing, but with a different gateway, the Janus 400AP. This gateway turned out a bit better, as I was able to get a working image on the gateway, but found out it was a fairly impractical thing to do as the gateway didn't have enough memory to run effectively. Even though I enjoyed working with these gateways, my favorite project that I've worked on so far would definitely have to be improving Exosite's Arduino library.
At the time, Exosite's Arduino library consisted of the basic functions that allowed devices to communicate with Exosite, and I was tasked with completing the library and adding the remaining functions that were missing. Eventually, after about a week of work and countless hours of Google searching, I was able to complete the library. After that was finished, I worked on adapting that code to function on the CC3220SF and other devices used the Arduino IDE (or in the CC3220's case, Energia).
Towards the end of the summer, as I was about to leave for Iowa state, I was asked to create a project that would demonstrate the library I had updated. I decided to connect a programmable LED strip to an Arduino Yun. Using the new library, I was able to send data to the Arduino that would change the colors/brightness of the LED's. To top it all off, I enclosed everything in a paper lantern, creating a sort of lamp.
What did you learn?
I started off at Exosite with very little experience. I had taken a couple programming classes to learn Java, but other than that I didn't know much. Because one of my first projects at Exosite was working with gateways, I had to start learning how to use a terminal. This was probably the most valuable skill I had picked up at Exosite. Being able to run commands from my terminal opened a ton of doors for me. I suddenly was capable of doing so much more than I thought would ever be possible.
Besides the other technical skills I picked up, I learned a lot about what it was like to work at a company that really cares for their customers. Everyone around the office loves what they do, and works hard to produce the best work they can. After only working there for a week, it became apparent to me that everyone was an actual person, not just a robot that comes to work every day, 9-5 to do their job and leave. It gave me a sense of belonging as part of a community, not just a company. The greatest takeaway I've received from Exosite is a better sense of what I want to do with my career, and a vision of what type of company I would like to work with in the future.
What is something about you that would surprise us?
I'm not sure how surprising it is, but I'm really into video games, more specifically, Dota 2. The surprising part is that I've been playing it since I was in 8th grade, and since then have gone on to play for a couple amateur teams. After coming to college, I've found a bit of free time and have started to stream on Twitch.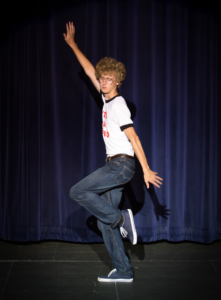 What are you going to be for Halloween?
It shouldn't come as a surprise to anyone around the office that I'll be going as Napoleon Dynamite.

Look for future tech-focus blogs from Thane on Thursdays starting next month.