Don't Miss Exosite's Live Webinar on "Turning the Cloud into a Rainmaker" February 27th
by Josh Simi, on February 19, 2014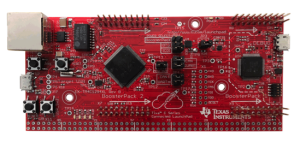 Technical experts from Exosite, Texas Instruments, and Avnet will provide a brief overview of Internet of Things (IoT) cloud technology – what it is; how it's transforming electronic design; and how the technology is evolving. They'll then move on to tackle the two important questions: Why should you care about IoT cloud technology, and how should it impact your product development and marketing strategy.
The new Tiva™ C Series TM4C129x Connected LaunchPad from Texas Instruments (TI) and scalable IoT Platform technologies from Exosite make opening a gateway to the cloud – and designing for the Internet of Things – easier than ever before. This webinar will explore how to maximize the functionality and profitability of your application by designing with the industry's first MCU to integrate the ARM® Cortex™-M4 core with an Ethernet MAC+PHY, along with highly customizable, Web-based, visual analytic tools from Exosite. This webinar will also demonstrate how this exciting new technology allows you to accelerate development of differentiated solutions with broad market appeal across an array of target markets using Exosite's Micro Vertical Engine approach. Watch a short clip here to learn more.
This webinar will be tailored to designers interested in exploring how IoT Platform technology can be leveraged to create differentiated (and profitable) product solutions – while, at the same time, reducing development time and expenses and quickly bringing your devices online without the hassle of writing complex code or calling in expert programmers.
Event attendees will be eligible to purchase the new Connected LaunchPad before its public release. The first 50 attendees to purchase the EVM will also receive a FREE copy of Code Composer Studio.
Don't miss it! Register for the webinar by clicking here and if you want to read the full press release you can do so here.