Edge Node Sensors, Bluetooth Low Energy, Wireless Cellular Gateways, and more!
by Josh Simi, on July 14, 2014
At this year's Sensors Expo, Exosite decided to shake things up a bit. As we know, the Internet of Things (IoT) is a business strategy that carries incredible potential for any company providing a product or service. However, there are many components that must be integrated (e.g., edge node sensors, wireless gateways, transport layers, application software) in order to develop a complete IoT solution. In order to display how these components can work together, we teamed up with our ecosystem partners like Texas Instruments, Verizon Wireless, Anaren, ClearConnex, and California Eastern Laboratories to set up live demonstrations on the show floor.

The Anaren booth featured their new AIR B-Smart BoosterPack with Emmoco's software solution that collected and sent data via Bluetooth Low Energy (BLE) across the show floor to Verizon's new Machine Connect 4G low-cost, semi-rugged gateway. The gateway aggregated and pushed the data over Verizon's cellular network to Exosite's software platform, where it was displayed and controlled in real-time.
Exosite also broadcasted the World Cup match between the US and Germany on our 52" LCD. This not only netted a great crowd around our booth, but also led to great introductions and conversations!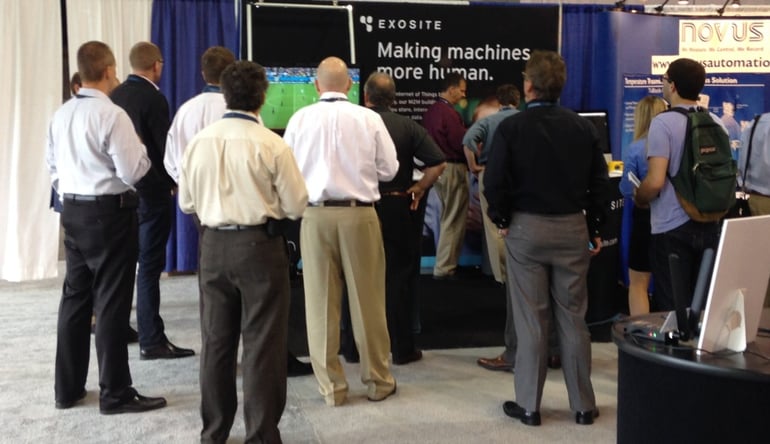 Exosite works with a growing number of ecosystem partners to truly enable IoT solutions. The ability to connect partner products and services to Exosite's software platform removes the barriers to market entry, helps customers build and deploy IoT solutions faster, and ensures those solutions generate revenue from the start.